Our League's focus for the next several years is Action Against Hunger in Alachua County. Almost one in four children in our county go to bed hungry every night. That needs to change!
Some facts and terms to give you insight: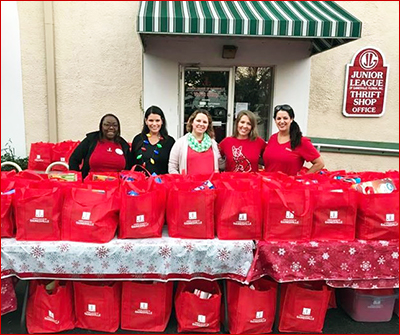 Food Desert
A food desert is an urban area in which it is difficult to buy quality fresh food. In Gainesville, food deserts are located primarily on the Northeast side of town and in a pocket of Southwest Gainesville.
Food Insecurity
The USDA defines food insecurity as a state in which "consistent access to adequate food is limited by a lack of money and other resources at times during the year."
In Alachua County, the percentage of children under 18 who were food insecure in 2012 was 23.3% — that's 10,450 children in our community who aren't sure where their next meal is coming from.
Each year between 2008 and 2013, the percentage of students eligible to receive free/ reduced lunch has increased. Now more than half of school children in Alachua County qualify for free/reduced lunch.
How the Junior League of Gainesville contributes
We advocate at the local and state government level to help decrease food insecurity for children. We work directly with the Food4Kids Backpack Program of North Florida, Catholic Charities of Gainesville, and Southwest Advocacy Group of Gainesville.
How You Can Help
Food4Kids Truck Initiative
To continue meeting the growing needs of food insecure families in our area, the Junior League of Gainesville has set a large goal for the spring Amazing Give – purchasing a food delivery truck for Food4Kids Backpack Program! With a goal of $50,000, this delivery truck will provide the transportation necessary to acquire the quantities of food the program needs and must purchase locally, as well as support distribution from their warehouse to local schools without depending exclusively on volunteer capacity. Donate today to help meet this important community need!
Amazon Wish List


You can help families in our community with just a few clicks. Our Community Action Wish List on Amazon includes items, such as, kitchen utensils and pans, that will help support our Action Against Hunger programs. These items are shipped directly to JLG!