Sponsorship Opportunities
Junior League of Gainesville is an organization of over 400 women committed to promoting volunteerism, developing the potential of women and improving communities through the effective action and leadership of trained volunteers. Our purpose is exclusively educational and charitable.
Our sponsors are a key component of serving the Gainesville community. Currently, our community impact focus is combating hunger in Alachua County. The success of our programs is made possible by the generous support of our members, the community and friends like you.
Join these wonderful organizations and businesses in supporting the Junior League of Gainesville.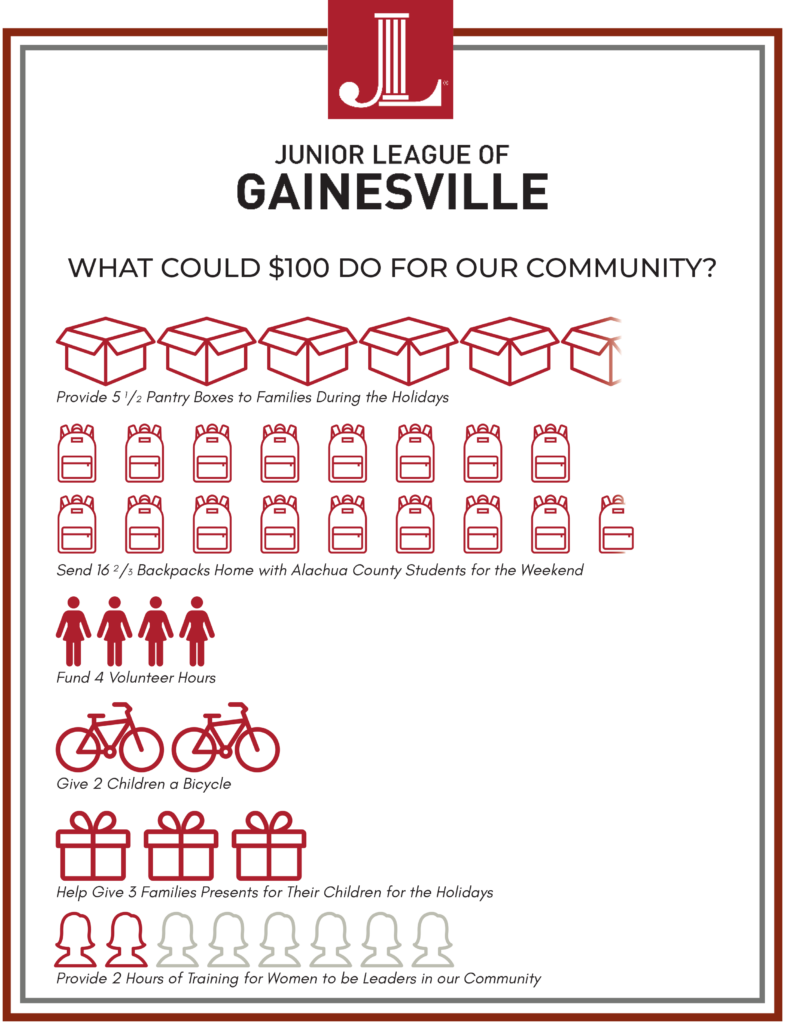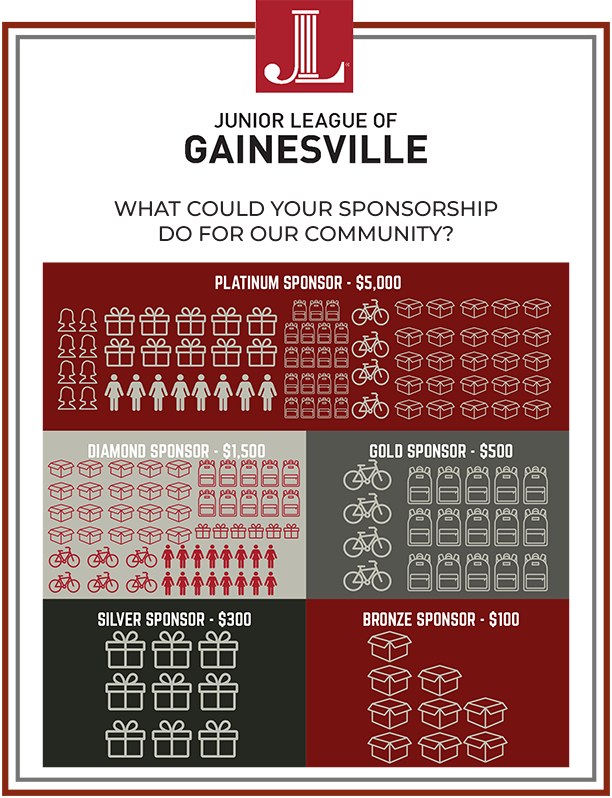 2022-2023 Annual Sponsorship Benefits
Platinum Sponsor benefits ($5,000 Cash/$15,000 In-Kind)
Logo displayed on Miracle on Main Street Thank You Banner
Company Logo listed on the Junior League of Gainesville website with a link to business website
Logo and thank you on the slideshow at monthly membership meeting (100+ members)
Logo on digital agendas for monthly membership meeting
Logo displayed in bimonthly member e-newsletter
Ad on Junior League of Gainesville website
Logo on promotional materials at League social events
Logo on ads for all Junior League of Gainesville advertising in local publications
Social Media mentions:

3 Sponsor Shout Out posts on Facebook (1,400+ followers)
3 Sponsor Shout Out posts on Instagram (1,000+ followers)
Diamond Sponsor benefits ($1,500 Cash/$3,000 In-Kind)
Logo displayed on the Miracle on Main Street Thank You Banner
Company logo listed on the Junior League of Gainesville website with a link to business website
Logo and thank you on the slideshow at monthly membership meeting (100+ members)
Logo on digital agendas for monthly membership meeting
Logo displayed in bimonthly member e-newsletter
Social Media Mentions:

3 Sponsor Shout Out posts on Facebook (1,400+ followers)
3 Sponsor Shout Out posts on Instagram (1,000+ followers)
Gold Sponsor benefits ($750 Cash/$1,500 In-Kind)
Logo displayed on the Miracle on Main Street Thank You Banner
Company logo listed on the Junior League of Gainesville website with a link to business website
Logo displayed in bimonthly member e-newsletter
Social Media Mentions:

2 Sponsor Shout Out posts on Facebook (1,400+ followers)
2 Sponsor Shout Out posts on Instagram (1,000+ followers)
Silver Sponsor benefits ($500 Cash/$1,000 In-Kind)
Logo displayed on the Miracle on Main Street Thank You Banner
Company logo listed on the Junior League of Gainesville website with a link to business website
Social Media Mentions:

2 Sponsor Shout Out posts on Facebook (1,400+ followers)
2 Sponsor Shout Out posts on Instagram (1,000+ followers)
Bronze Sponsor benefits ($100 Cash/$200 In-Kind)
Company logo listed on the Junior League of Gainesville website with a link to business website
Social Media Mentions:

1 Sponsor Shout Out posts on Facebook (1,400+ followers)
1 Sponsor Shout Out posts on Instagram (1,000+ followers)
In addition to purchasing via the links above, please download and complete our Sponsorship Commitment Form (pdf). All sponsor contracts should be emailed to: [email protected]
If you're interested in supporting the Junior League of Gainesville in its year-long initiatives as a sponsor, please contact [email protected]